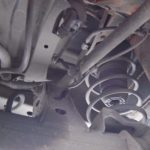 Have you ever wondered what AHC is? Some of our vehicle parts can only be fitted to vehicles with AHC so we have put together a quick guide to help.
Firstly AHC stands for Active Height Control suspension or Adjustable Height Control.
What does AHC do?
Well to keep it short on the Land Cruiser 100 series it allows the vehicle rear ride height as well as the damping efficiency to be controlled but only at certain speeds and depending on the weight etc by using a complex system of fluid rear dampers, accumulators and sensors with linkage etc.
There are 3 overall height settings:
Low – Used in general for loading/unloading - we believe only when the vehicle is below 5mph or at a standstill does this setting operate
Neutral – The default setting for most driving conditions and automatically selected above 5mph
High – Ideal for off-roading or when extra ground clearance is required – again we believe after 30mph or so the neutral setting automatically selected.
Then there's the damping efficiency, controlled from the comfort to sport settings depending upon your requirements. So that's the basics to give you a general outline without getting too technical!
Which vehicles have AHC?
Land Cruiser 100 series – HDJ100, HDJ101 & UZJ100 are the models we support.
AHC was considered an upgrade so not models will have it.
Why was the AHC system introduced?
Basically, it was to allow the driver to select various suspension settings to adjust the ride/height etc to their requirements and automatically adjust the damping depending on road conditions.
Which brands are available for AHC?
In the main only Genuine Toyota parts are available, accumulators you may find aftermarket options, but we've heard bad stories about these!
So yes, the parts to repair the AHC systems can be expensive but we're really pleased to be able to offer original Genuine Toyota AHC components are really competitive prices – and of course, guaranteed quality and fit.
Are there other variations of AHC or Toyota adjustable suspension setups?
Toyota has many terms for their suspension setups such as TEMS (Toyota Electronic Modulated System) which is basically electronically controlled damping as well as air suspension setups as used on other models such as the land Cruiser 120 series – these we will cover in a later newsletter.
Can I change my AHC system for a basic setup?
The 100 series models had either a basic shock, torsion bar and rear coil setup or the AHC system so you can convert the expensive AHC setup back to a more traditional and some would say more reliable suspension system – we have two kits to do the job, one a "standard ride height kit" and the other a "lifted suspension kit".
> View all our Suspension Kits here